Men's brekkies are resuming at 8am on Saturday Feb, 2nd. We will be meeting regularly on the first Saturday of each month this year at St Luke's, Ellinbank. [map] and extend an invitation to you if you would like to join us for a hearty cooked breakfast, conversation and discussion of our topic of the morning.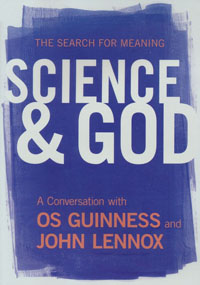 This month we will be watching a short DVD of a conversation between Os Guiness who is a Christian apologist author & social analyst as he engages John Lennox who is Oxford University Professor of Mathematics.
Some modern-day theories seem to pit science against God, but why? Do you have to choose or can you intellectually believe in both? In Science & God, Os Guiness and John Lennox explore this tension, with calculations that subtract neither God nor science. Lennox looks at both historical and contemporary explanations of the universe, and he uses debate-tested conclusions and simple illustrations to clarify the real issues of this controversy.